A deeply impressive and excellent product always has a memorable image. In this article, we will comprehensively analyze CASUN Intelligent's second "little giant": the C2-24 series of hidden lifting AGVs.
Compared to CASUN's traditional hidden lifting AGVs, this product has improved its load capacity and performance while maintaining CASUN's consistent high stability, flexibility, and cost-effectiveness.
CASUN's self-developed intelligent control and scheduling system, combined with WMS or other production management systems used on-site, can achieve "point-to-point" handling tasks and seamless docking with various production equipment (including robotic arms). This "little giant" has been applied to intelligent production lines and intelligent warehousing and logistics operations in multiple industries, including electronics, electricity, tobacco, food and beverage, automotive and parts, and new energy. At the same time, CASUN can also provide custom AGV according to the needs of different industries.
Ⅰ. AGV products technical advantages:
Compared to the same series of products in the market, the C2-24 series of hidden lifting AGVs manufactured by the professional AGV manufacturer mainly have three technical advantages:
1. Optional QR code navigation or natural navigation control system
This C2-24 product can be equipped with QR code navigation or natural navigation, and also can achieve single-car dual-navigation mode switching.
2. Option to install vision recognition system
The AGV loading platform has a vision detection module that can recognize materials and upload identification information to the WMS or MES system, thus realizing data collection and intelligent warehousing management functions.
3. Vehicle body optimization design
Adopting a dual-wheel differential drive can realize flexible forward, backward, rotation, and operation modes. Meanwhile, the AGV tray adopts a floating mechanism with relative rotation function with the AGV. The chassis is optimized to significantly improve ground adaptability and traction. The body can also adapt to a variety of different carriers according to needs, fully meeting the logistics needs of enterprises.
4. Large load capacity
The C2-24 series of hidden lifting AGVs have a load capacity of 1500KG and 2000KG, exceeding the industry's 1000KG load capacity for the same size vehicles. During load handling and driving processes, including emergency stops, the AGV's stability is ensured.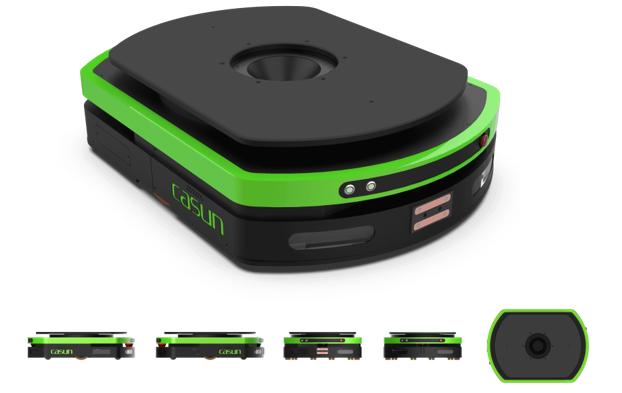 Ⅱ. AGV products applicable scenarios:
To facilitate user operations and achieve precise management, the C2-24 series of hidden lifting AGVs is equipped with many leading intelligent technologies of CASUN. The product can be widely adapted to various scenarios:
1. Different navigation adapts to flexible operations
By selecting different navigation modules, it can be universally applied to various scenarios, with simple installation and low environmental requirements, making it suitable for flexible operation needs.
2. Vision recognition system for information collection in different scenarios
Through the vision recognition system, various material boxes, racks, and carts can be selected and the operation process can be supervised to achieve efficient and intelligent feedback on production and operation efficiency. It realizes full-process tracking and is suitable for information collection in different scenarios, thereby reducing the degree of modification of the existing conveyors.
3. Vehicle body optimization for special scenarios
The lifting mechanism can realize relative rotation with the vehicle body, such as when the tray is stationary, the vehicle body can rotate, which can be flexibly applied to narrow channels or special handling requirements.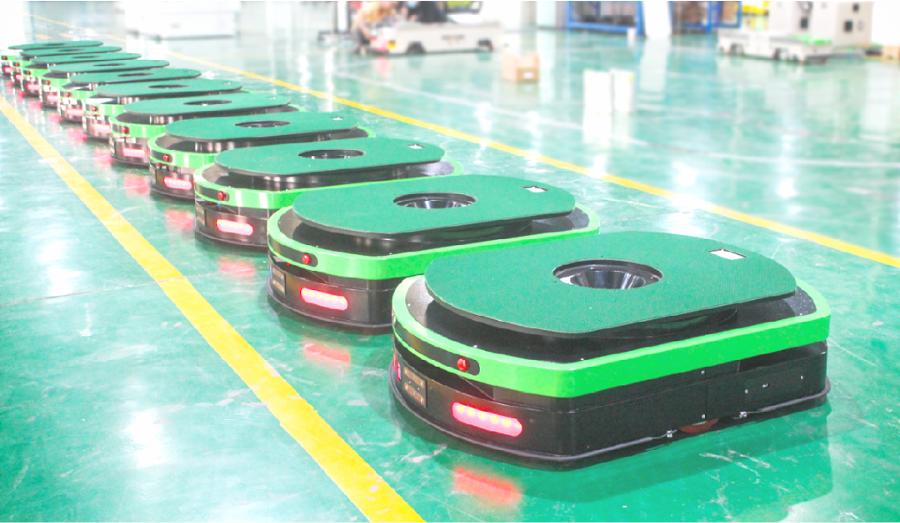 CASUN Intelligent, as a technological innovation enterprise in the intelligent logistics industry chain, is striving to build the automation and flexibility of the new generation of AGV industry. The four classic products that CASUN Intelligent will bring to this exhibition can provide the best solutions according to different industries, such as electronics, automotive parts, tobacco, medical, express delivery, e-commerce, intelligent manufacturing, and other fields.