An excellent product that is deeply rooted in people's hearts must have an impressive image. After understanding the C2-22 latent lift series, this week's editor will give you a comprehensive analysis of the second CASUN Intelligent "little giant": latent lift series C2-24 product.
Compared to CASUN's traditional latent lift AGV, this product improves the load capacity and performance of the product itself, while maintaining the high stability, high flexibility, and high cost-effectiveness of CASUN China AGV.
Basic parameter list of CASUN AGV:
| | |
| --- | --- |
| Navigation Mode | QR Code Navigation / SLAM Navigation |
| Car Body Size | L1380*W1060*H300(mm) |
| Walking Direction | Forward, Backward, Rotate |
| Loading Capacity | 1500kg / 2000kg |
| Walking Speed | 0-60m/min |
| Lifting Height | 50mm |
| Navigation Accuracy | ±5mm (QR code navigation) ±10mm (SLAM navigation) |
| Stop Accuracy | ±5mm (QR code navigation) ±10mm (SLAM navigation) |
| Driving Mode | Dual wheel differential drive |
| Charging Method | Collision charge |
| Battery | Lithium Battery |
| Safety Induction Range | ≤3m, Adjustable |
| Safety Protection | Front obstacle detection sensor+ Mechanical anti-collision double protection |
Combined with CASUN's self-developed intelligent control and scheduling system, In and out of a warehouse and empty pallet stacking tasks are issued by WMS to the AGVS&PMS system. Task instructions are "point to point" handling tasks, The AGVS&PMS system assigns the AGV to perform the in and out of warehouse handling, so as to realize the automatic handling and meet the needs of the loading and unloading of automatic docking with a robot arm. At present, this "little giant" has been applied to intelligent production lines and intelligent warehousing and logistics operations in many industries such as electronics, 3C, automobiles, new energy, and so on.
CASUN AGV Technology: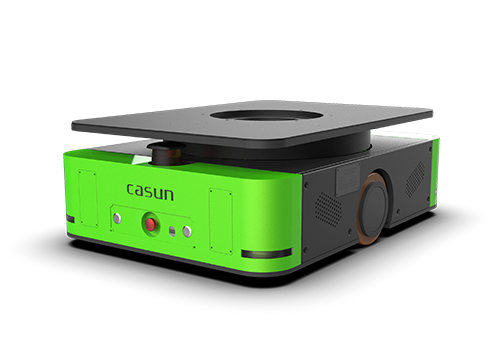 Compared with similar products in the market, this C2-24 latent lift series has three main technical advantages:

QR code navigation and natural navigation system are optional: Compared to traditional AGVs, the latent lift series C2-24 can choose QR code navigation and SLAM navigation technology, also QR code navigation and natural navigation are optional.

Strong load capacity: The latent lift series C2-24 has a load capacity of 1500KG and 2000KG, which is higher than the 1000KG load capacity of similar bodies in the industry. At the same time, the stability of the AGV can be ensured during the load handling and running process (including emergency stop).

Car body optimization design: Adopt dual-wheel differential drive, can realize forward, backward, rotating running mode, walking flexibly. At the same time, the AGV tray adopts a floating mechanism, which can rotate relative to the AGV, and the chassis of the car body is optimized to greatly improve the ground adaptability and grip. And the body can be adapted according to the needs of a variety of different vehicles, to fully meet the logistics needs of enterprises.
CASUN AGV Application: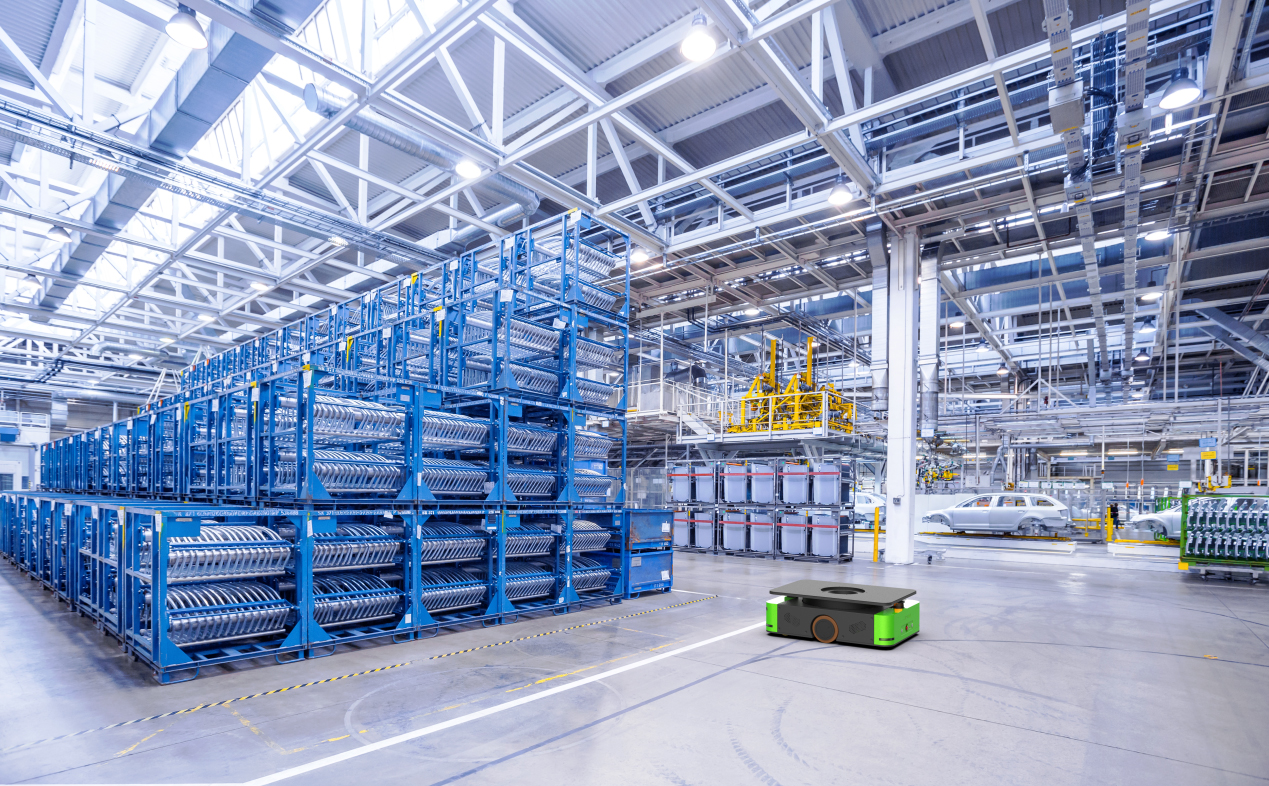 In order to facilitate user operation and accurate management, the latent lifting AGV C2-24 product is equipped with many leading technologies of CASUN Intelligent, making it suitable for a wide range of scenarios:
1. Different navigation adapts to flexible operation:
Through the selection of different navigation systems for the ground of each plant, without any environmental transformation, automatic identification of the path and the surrounding environment, convenient for customer's production line, plant transformation, and upgrading, to meet the needs of flexible operations.
2. Running speed to adapt to different scenarios:
Fast running speed, suitable for the fast pace of e-commerce, intelligent warehouse, and other large-scale logistics transportation scenarios.
3. The body is optimized for special scenarios:
As a scientific and technological innovation enterprise in the intelligent logistics industry chain, CASUN Intelligent is making efforts to build the automation and flexibility of the new generation AGV industry. In this exhibition, the four classic products that CASUN Intelligent will bring can provide the best solutions according to different industries, such as electronics, auto parts, tobacco, medicine, express delivery, e-commerce, intelligent manufacturing, and other fields.