Recently, after strict inspection and review by professional organizations, our company has successfully passed the standard review of ISO 14001 Environmental Management System and ISO 45001 Occupational Health and Safety System, and has obtained two certification certificates.
The successful passing of the ISO 14001 review this time also marks that our company's standardized production management has reached a new level, which is another important milestone for the pioneers. It indicates that our various management systems have reached international standards and can continue to provide customers with standardized and professional products and services in a sustainable and stable manner.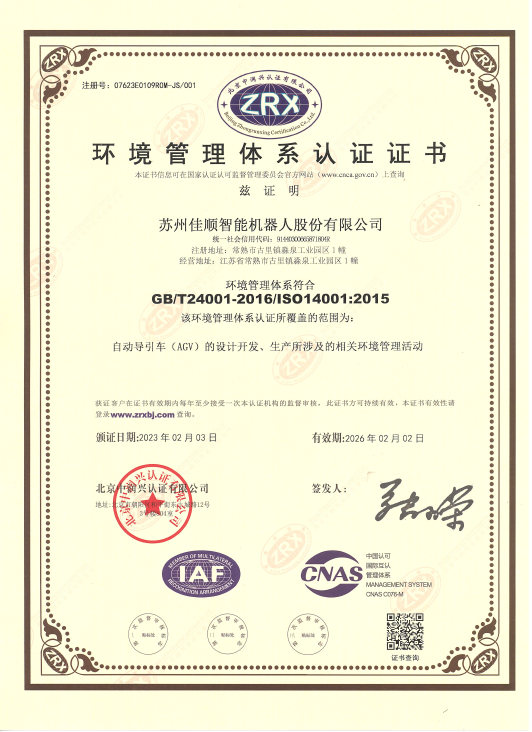 ISO 14001 Environmental Management System provides scientific and standardized guidance for enterprises to improve environmental awareness and management level, achieve rational use of resources, enhance the overall image of enterprises, and promote enterprises to move towards the international market with a green and high standard attitude.
As a unit participating in the compilation and drafting of China's mobile robot industry standards, Casun has always insisted on parallel emphasis on environmental protection and quality, continuously innovating production technology, optimizing production environment and management processes, and practicing the green road of scientific development.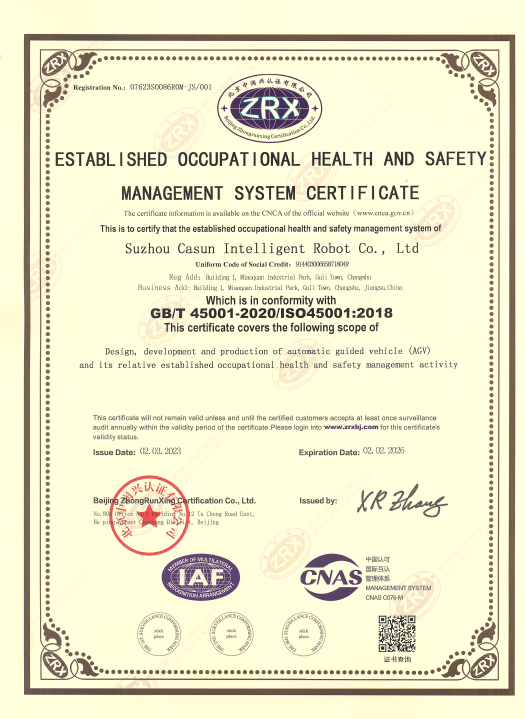 ISO is the most comprehensive and systematic international standard in the world, aiming to promote the development of standardization work globally, facilitate international exchange of goods and services, and expand cooperation in knowledge, science, technology and economy.
The acquisition of the ISO 45001 certification also marks that our company has a product manufacturing system that meets international standard requirements, and our enterprise management is more standardized, standardized, and scientific, while ensuring the sustainable development of employee health, safety, and environment.
The certification of ISO 14001 and ISO 45001 is a continuous recognition and affirmation of our company. In the future, Casun will also take this as an opportunity to continuously deepen the implementation of standards, provide customers with high-quality and green products, and further empower the high-quality development of the global manufacturing industry.