Recently, the 13th China International Robot Summit Forum with the theme of "Encounter capek and Anticipate the Future" (2023 The 13th China International Robot Summit Forum and the 9th Capek Award Ceremony) was grandly opened in Wuhu, Anhui.

CASUN won the Innovative Product Award
CASUN was invited to participate as a representative of the robotics industry, and jointly discussed the global robotics industry's cutting-edge hotspots, core technologies, innovative applications, business models, and the hot topics of national robotics industry development to promote the rapid and healthy development of China's robotics industry.
The Ministry of Industry and Information Technology, along with 17 other departments, jointly issued the "Action Plan for the Implementation of 'Robot+' Application." It requires doubling the robot density in the manufacturing industry by 2025 compared to the year 2020. The plan focuses on ten key application areas, and aiming to develop over 100 innovative robot application technologies and solutions, promote more than 200 robot application scenarios with high technical levels, innovative application models, and significant results. The plan aims to build a group of benchmark enterprises in the "Robot+" application field, carrying out innovative practices in "Robot+" applications, and create a strong atmosphere for promoting the comprehensive application of robots.

CASUN fully implements and adheres to the development plan of "Robot+," seizing the opportunities brought by intelligent technology and advancing firmly on the path of high-quality development. It emphasizes that technological innovation is the important foundation for independent and controllable development, and independent and controllable capabilities are the key support for self-reliance and self-strengthening, which are the fundamental guarantees for building a manufacturing power.
CASUN has always been committed to promoting the intelligent, digital, green, and high-end transformation of industries, continuously iterating and extending its technologies, products, and applications.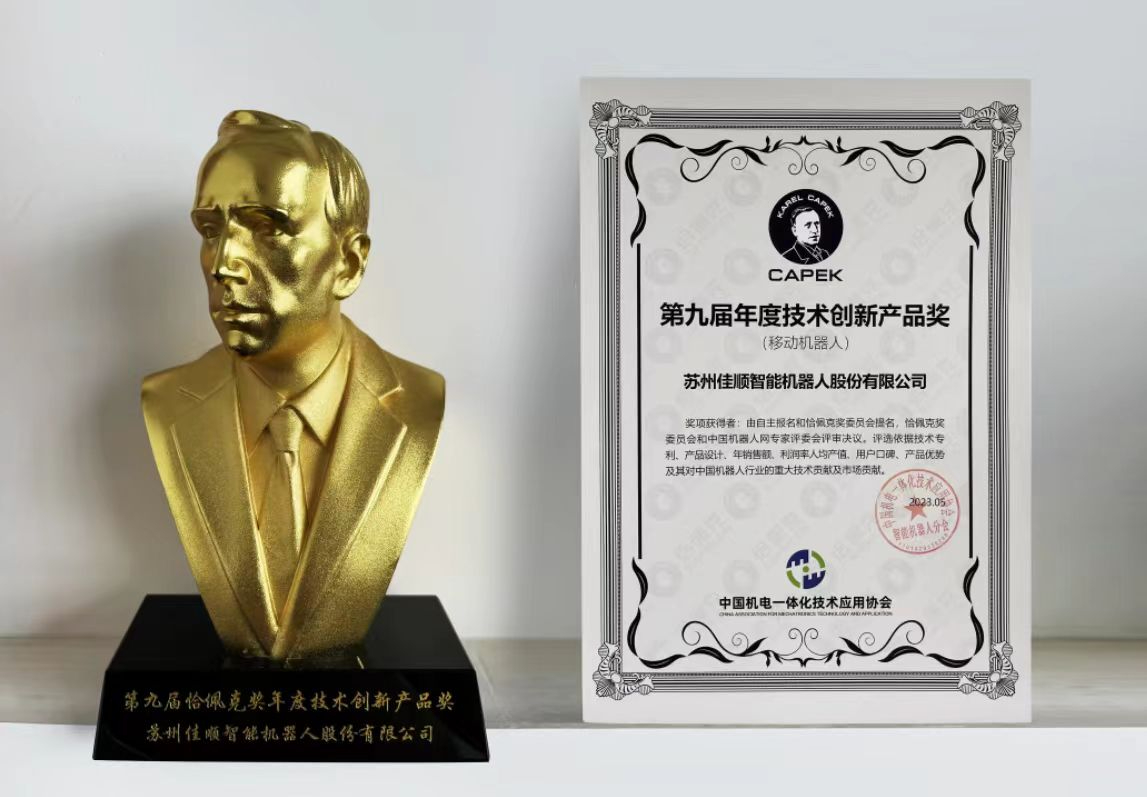 At the conference, CASUN's latent mobile robot C1-14 with new SLAM navigation was honored with the "9th Capek Annual Technology Innovative Product Award".
Introduction to CASUN Latent Mobile Robot
CASUN C1-14 latent mobile robot adopts SLAM navigation and is suitable for environments with relatively fixed contours. The working mode of the robot is to automatically submerge to the bottom of the material cart after receiving system instructions. It attaches to the cart automatically using a traction rod, enabling end-to-end transportation. Multiple AGVs can also form a flexible production line, facilitating the flexible production in factories. Currently, it is widely used in the SPS (Sequence Production System) of automobile assembly workshops.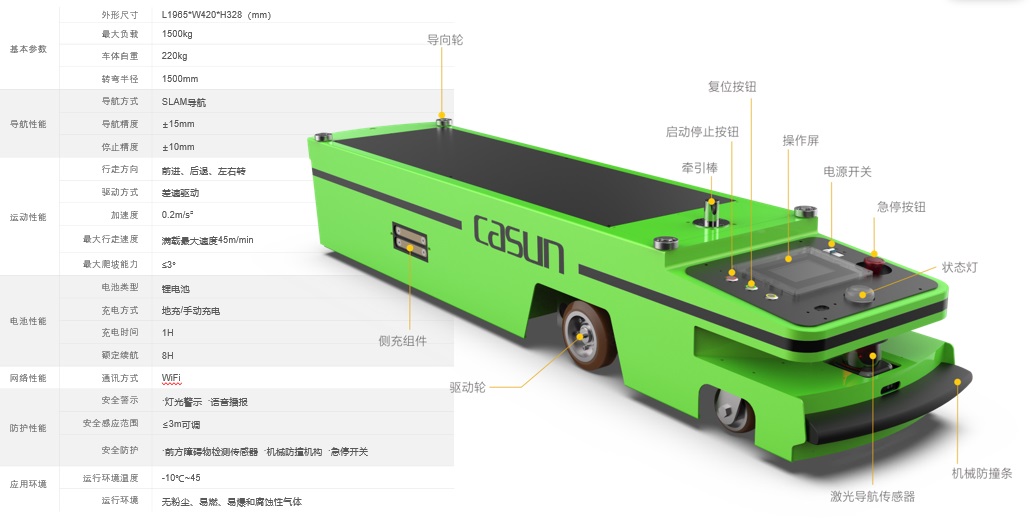 Traction Method
The mobile robot automatically submerges to the bottom of the material cart after receiving system instructions and attaches to the cart automatically using a traction rod, enabling end-to-end transportation.
The outer dimensions of the material cart range from L1335mm (1200-2400) * W847mm (800-1600) * H625.5mm (500-800).
Market Advantages
The application of SLAM navigation technology to stealth mobile robots, especially in large-scale applications, can fill a market void.
C1-14 can adapt to various types of tooling carts, making its application prospects extensively.
C1-14 is a standard product with high cost-effectiveness and short delivery time.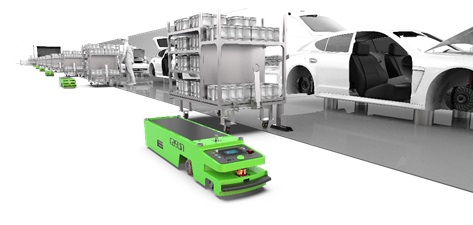 Outstanding Performance
The navigation mode adopts SLAM navigation, and multiple mobile robots can form a flexible production line. It uses differential drive and fulfills basic functions such as forward, backward, and turning. With a rated battery life of 8 hours, it is equipped with automatic charging functionality.
Multiple Safety Protections
In addition to setting up laser obstacle avoidance in the main operating direction of the mobile robot, a buffer (collision bar) for contact obstacles is also installed to achieve multiple levels of safety protection, ensuring high reliability.
Excellent Human-Machine Interaction Design
Handheld devices can be used for quick optimization configuration and can operate independently without a communication network. Simple operations can switch between manual and automatic modes.
Collaborative Operations
CASUN stealth traction mobile robot can collaborate with other series of robot products within the company. The robot scheduling and control system supports multiple quantities and series of robots to be online simultaneously. This series of robots can form a flexible production line, reducing costs and increasing efficiency for enterprises, while also reducing labor intensity for workers.