After the Romanian project of Casun Intelligent and Arcelik won the title of "Lighthouse Factory" nominated by the World Economic Forum, Shenzhen Casun Co., Ltd. once again committed to the Yancheng factory of Faurecia (Yancheng) Auto Parts System Co., Ltd., we won the "2019 China Best Factory - Digital Competition Excellence Award".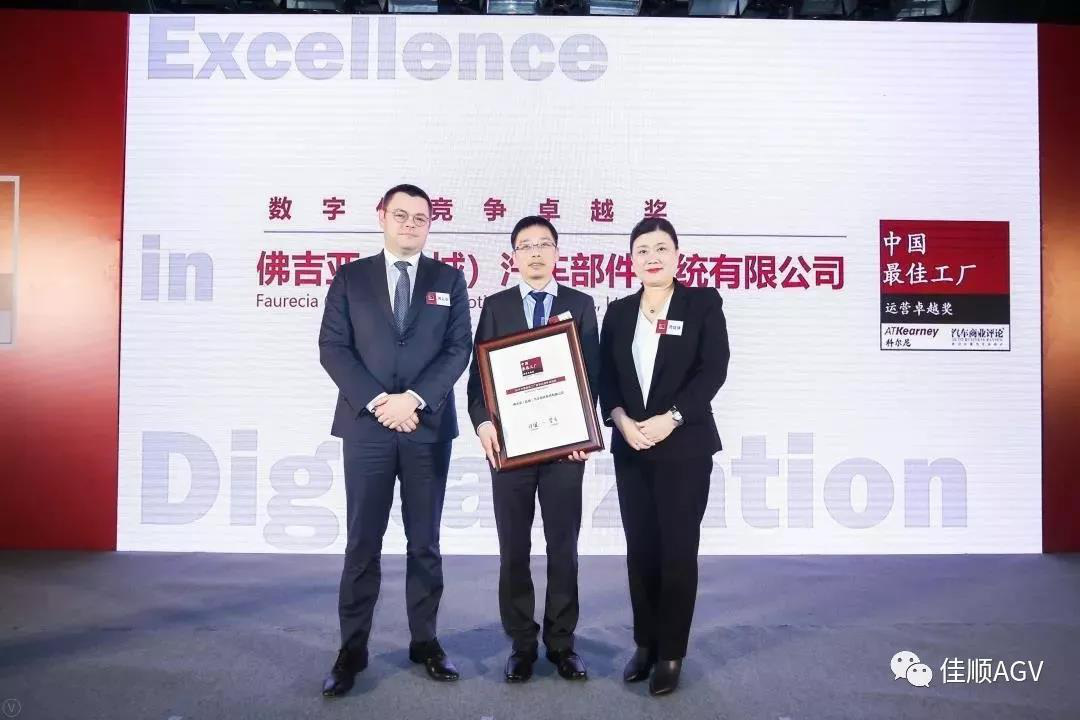 Since 2016, the selection of "China's Best Factory/Operational Excellence Award" jointly sponsored by Auto Business Review and Kearney, a world-renowned consulting firm, has been held for the fourth time this year. The activity is awarded from the multi-dimensional aspects of factory manufacturing, management and supply chain management, aiming to find the "best factory" in China through the best factory selection system.
1. AGV company Casun aspires to be the best factory in China
The selection of "China's Best Factory/Operational Excellence Award" is an important part of the "World's Best Factory/Global Operational Excellence Award", which was initiated by Kearney, a world-renowned management consulting firm, in Germany in 1992. At present, more than 2,000 companies around the world use this well-developed benchmarking system to determine their status relative to the industry's best factories.
In the wave of "Industry 4.0", if you want to not be eliminated, you must keep up with the pace of the times. Many companies are facing transformation. Under the current severe economic situation, companies cannot stick to old business models if they want to stay away from losses and achieve sustainable development. It is necessary to adapt to the changes in the market and industry, carry out transformation and upgrading, and then achieve the sustainable growth of the enterprise. The new generation of information technology represented by cloud computing, big data, the Internet of Things, and artificial intelligence is deeply integrating with traditional enterprises. The most important thing right now is to improve capacity, competitiveness and efficiency.
There are several aspects that can be considered in improving capacity, competitiveness and efficiency: First, industrialization, including the improvement and upgrading of production capacity and equipment, is an opportunity to move towards intelligent manufacturing. The second is the upgrade of the management system, whether it is hardware, software, or management system and the management model should be comprehensively improved.
2. How does intelligent manufacturing play a role for AGV companies?
Casun is an expert in this field. It is a new third-board listed company with AGV mobile robots as its core products. Founded in 2007, after more than ten years of rapid development, it has grown into a leading enterprise in the AGV mobile robots industry with innovation and R&D capabilities in China.
Casun is not only to make AGV intelligent car, but the most important thing is to provide customers with overall logistics automation solutions. So far, Casun has designed and provided more than 2000 AGV fleet management system solutions for customers. The introduction of AGV intelligent trolleys can help enterprises realize automated production lines or warehouses, improve production or transportation efficiency, and reduce labor costs.
With the advent of intelligent manufacturing, factory intelligence has become an irreversible development trend. AGV intelligent car is an important core component of automatic skill upgrading. If you have any needs, we can provide professional services.